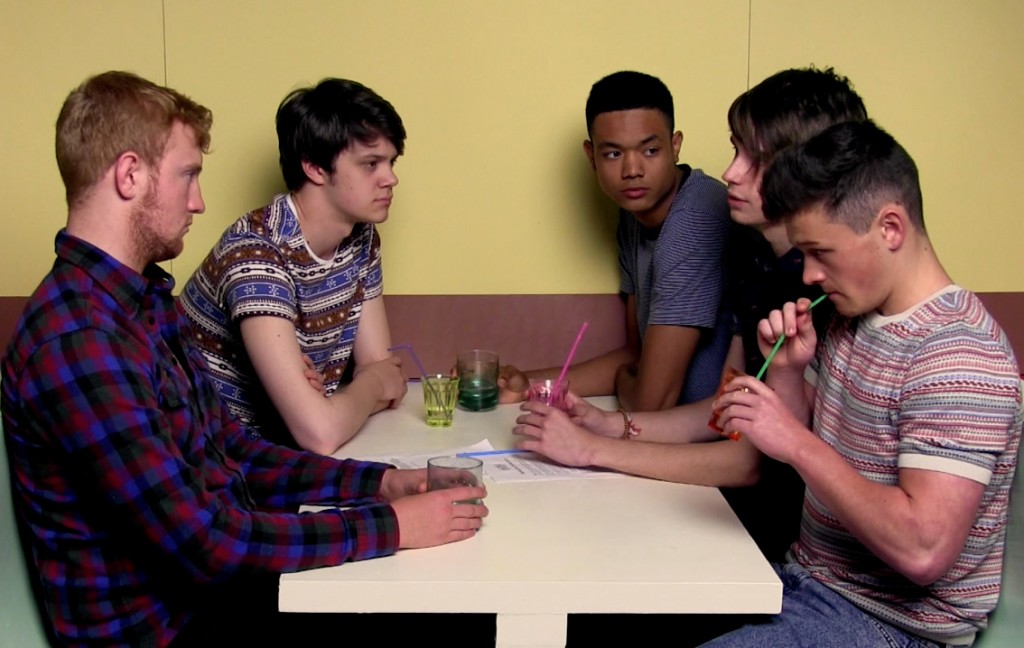 Maximum Irony! Maximum Sincerity (MI!MS) was a proposal for an art movement, complete with manifesto – "M.I.!M.S., A Manifesto of Maximum Irony! Maximum Sincerity" – written by Andy Holden and four of his friends (John Blamey, Roger Illingworth, James MacDowell and Johnny Parry) in the early 2000s in their home town of Bedford. A pre-art school attempt to understand, articulate and stake a position, MI!MS was a framework for making and viewing art. The MI!MS Manifesto opens with the provocation: "We live in an age of irony in mourning for sincerity!"[1] It describes "the willingness to be lied to and the will to believe";[2] an attempt to simultaneously inhabit contradictory states of mind. M!MS stated that irony and sincerity could coexist, asserting that it is possible to inhabit both positions at the same time.
In 2011, Holden co-authored a lecture with Tyler Woolcott entitled Laws of Motion In a Cartoon Landscape that featured the cartoon character Charlie Brown. Here, Charlie Brown's jumper – with its zigzag motif – was used as a visual metaphor for oscillation between contrasting positions. This rapid movement between conditions differs, however, from the MI!MS attempt to inhabit oppositional states simultaneously. Holden's recent exhibition at Spike Island, Maximum Irony! Maximum Sincerity, 1999-2003: Towards a Unified Theory of MI!MS, featured a video excerpt of Bruce Springsteen coaching his audience: "try to hold two ideas in your mind. If it does not kill you it will make you stronger."[5] The whole show at Spike Island – its structures, videos and the activity and performance of making them – embodied this MI!MS concept of simultaneity. This was both a work of and about MI!MS.
I asked Holden about the contradiction between these positions, about whether he was advocating for the occupation of both, or an oscillation between the two states. He replied, "I talk about it being a rapid frequency movement between pessimism and optimism, knowing, not knowing, language, silence – these polarities – constantly bouncing between two things and never arriving at either; whereas MI!MS says, no, [they are] one entity. Which seems like a bolder position actually."[6] MI!MS sprang from an adolescent sense of paralysis arising from increased self-awareness and self-consciousness: "We should not be cynical about the emotions in our work- we are simply cynical about the means we have to express that emotion."[7] The call for a wholehearted, emotional and active inhibition of both states was a reaction against this paralysis.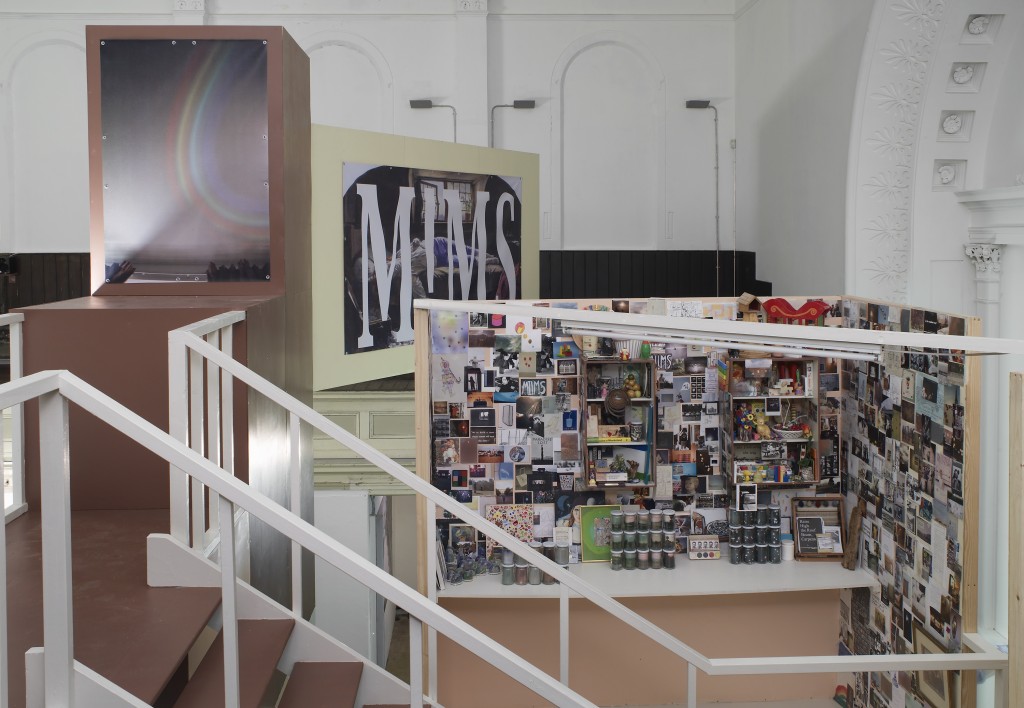 Holden's exhibition, commissioned by the Zabludowicz Collection, London, in Autumn 2013, and reconfigured in May 2014 at Spike Island, Bristol, constituted a return to, and reappraisal of, MI!MS. Its central work was a new feature-length film divided into chapters and situated within a large installation, which also incorporated works made both between 1999 and 2003 and especially for the exhibition. At Spike Island the show opened with a scene in which the original members of MI!MS auditioned Bedford-based teens to play themselves. By showing the work and its development side by side this opening revealed the layered nature of Holden's work. He explained: "There is the narrative of the history of [MI!MS], an attempt to depict an art movement and an attempt to depict the attempt to depict an art movement."[9] The audition scene introduced a number of the work's motifs: performativity, adolescence, endeavour and, of course, irony and sincerity.
Speaking in the present tense, the video's performers re-created conversations from more than ten years ago, remembered now by adults who were once the teenagers having them. The actors were simultaneously in dialogue with one another and the original members of MI!MS. They were also in conversation with Holden, both as an artist (he directed the work from behind the camera) and as a younger person. Holden's narrative resisted a linear progression. His complex exchanges across time and tense, and his looping and relaying imagery recalled American writer David Foster Wallace's use of endnotes as fracturing device. When discussing these endnotes Wallace said: "It seems to me that reality is fractured right now, at least the reality that I live in… Text is very linear… I am constantly on the look out for ways to fracture the text that aren't totally disorientating."[10]
A two storey free-standing structure resembling a stage set or giant dolls house dominated Holden's show. These spaces contained sculptures, images and videos, unifying everything into a single entity. Each of the spaces referenced a place from Holden's past (his mother's utility room, for example, which he co-opted as a studio) or a location from the narrative of MI!MS (the café, Poppins, in which the group signed their manifesto). Maximum Irony! Maximum Sincerity 1999-2003 was a Gesamtkunstwerk that incorporated music, words, social interaction, sculpture and public art. The whole space – and the viewers' experience of it – was a choreographed set. The sprawling, all-encompassing nature of the work mirrored its content; this was a show about Holden's life.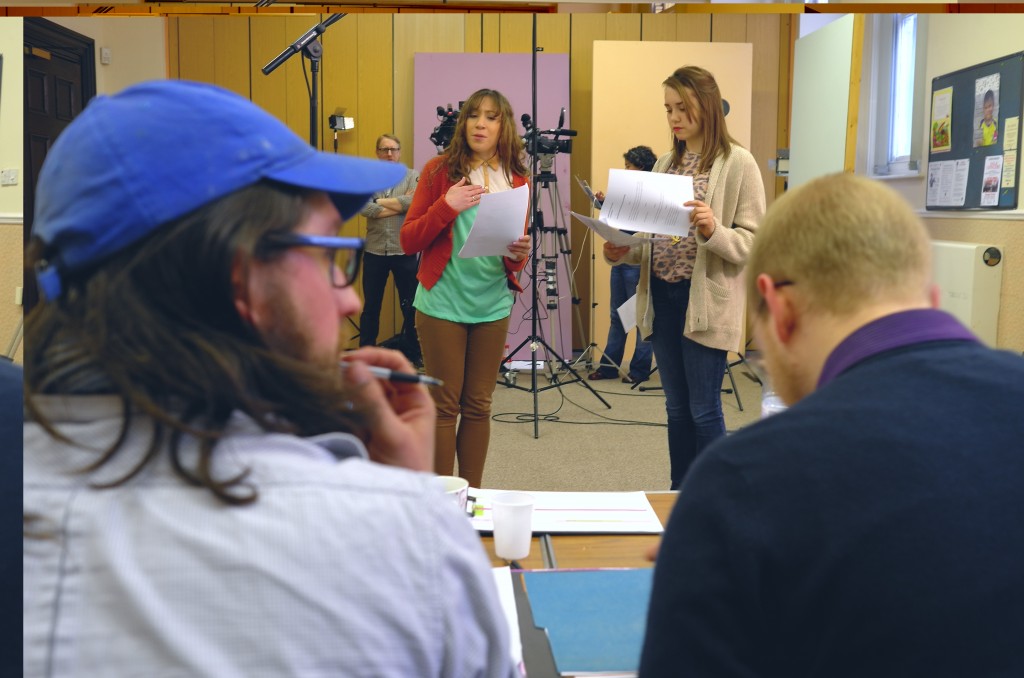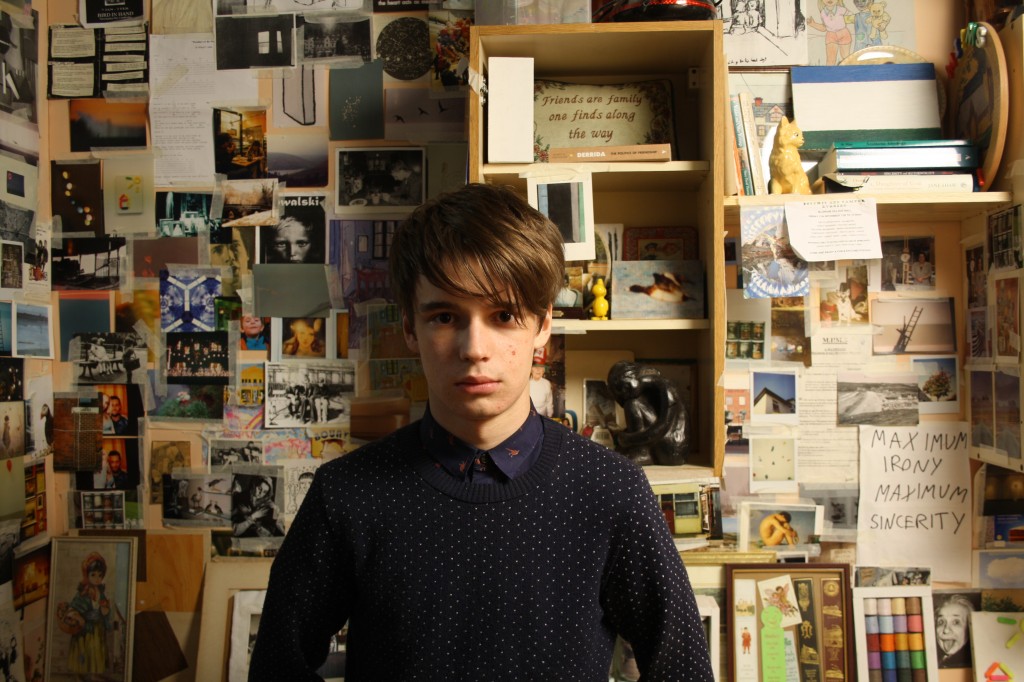 A central concern in every element of Holden's show, and his work more generally, is the primacy of the attempt. The final work may fail, it may be impossible to make or it may not communicate in the way hoped, but the desire to try – and to keep on trying – is key. For Holden, Charlie Brown encapsulates this sense of endeavour: "One minute he is saying that he absolutely knows it's not going to work but while he is saying that he is trying to do it anyway."[11] This is an inherently optimistic approach. Vermeulen describes optimism as the "party pooper of Postmodernism"[12] and terms a new approach to optimism as an "informed naivety", which is close to MI!MS in its willfully contradictory or oxymoronic nature (that which is at once "sweet and sour"[13]).The decision to use children and adolescents to perform works of MI!MS further articulates a sense of striving.
As a portrait of Holden's youth the work in Maximum Irony! Maximum Sincerity 1999-2003 is a portrait of a place. While some of the places referenced might be recognisable to citizens of Bedford, most could be sited in any number of locations across the UK. The portrait is at once an intimate depiction of home and a portrayal of a generic non-metropolitan place. Bedford's neighbour, the larger, more modern city of Milton Keynes, figured in the minds of the MI!MS teenagers as a site for adventure and discovery. In Holden's video it was a signifier for the unknown. The sophisticated and modern conurbation with its investment in public art and its clean, linear streets, was the setting for a scene in which adolescents kiss against a public sculpture, a moment in which the intimate beginnings of sexual and emotional explorations meet the architectural setting of public, civic culture.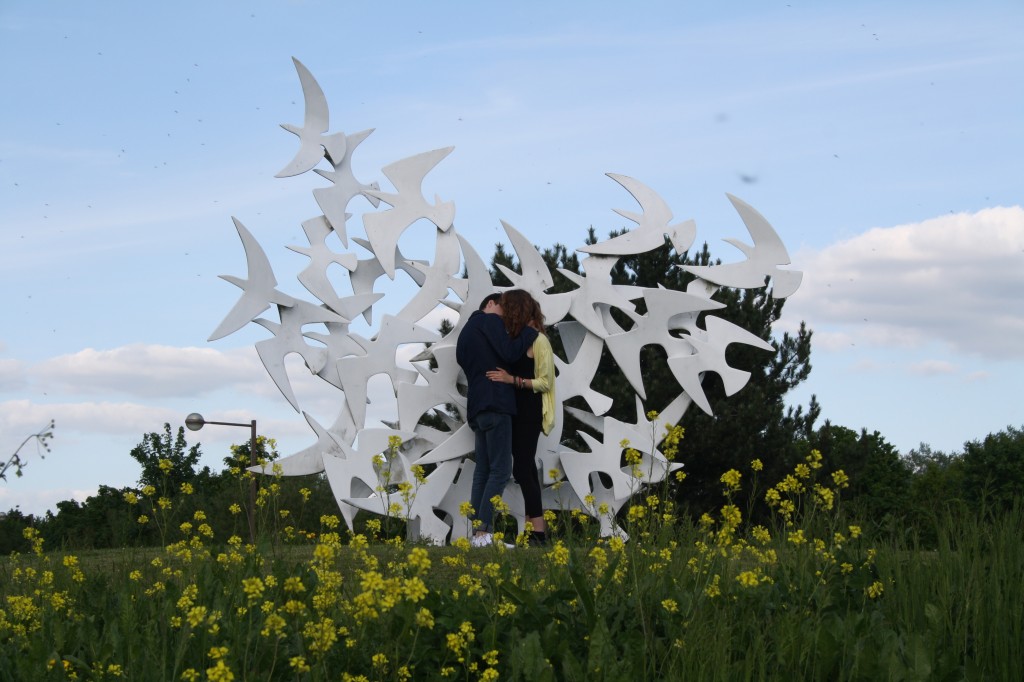 Some of Bedford's attributes are apparent in the video but others form a residual layer of memory and reference. They are the histories and narratives that have filtered into Holden's thinking, leaving echoes and traces in his work. The peculiar and improbable history of the Panacea Society, a cult based in Bedford for 100 years whose worship revolved around a box that could only to be opened at the end of the world, when all of Bishops of the Church of England were assembled in Bedford, or the other-worldliness of the Cardington Aircraft-Hangars, giant spaces just outside the town that were filled with actors and the sets of Hollywood films, are two such narratives. Other elements of the work developed an active re-engagement with the place and its social structures; Holden re-entered Bedford's gig scene to promote and stage a one-off reunion concert with his teenage band, 'Brave Soldier', and made a temporary crazy golf course in the town. The café in the centre of town, in which the group signed the manifesto, was rebuilt as a set for the actors to re-stage earnest debates around irony and sincerity based on scripts made from interviews with the original members
The coming-of-age narrative is carved in opposition to the mainstream. MI!MS began as an attempt to develop a new way of making that was distinct from the cool, ironic detachment of post-modernism. The MI!MS manifesto followed the 1990s 'new sincerity' in music and literature, and now finds parallels with contemporary schools of thought such as metamodernism. It strikes a chord with many other contemporary practitioners. Think of the importance of optimism, sincere intention and human relationships in the work of Jeremy Deller; the trope of the self-knowing-emotion-laid-bare confessional; or the craft processes employed by artists such as Ciara Phillips.
I assumed that Maximum Irony! Maximum Sincerity 1999-2003 constituted a filtered version of the original sentiment of MI!MS. Amongst the acted, choreographed hyperbole of the show, there was a moment when a recording of Holden's teenage voice sprang out, jolting the remembrance: this is Andy's life. Yes, the show conveyed a series of metaphors, but it was also about his friends and family. It articulated an emotional, maximal and intimate experience of twenty-first century life, which made some people uncomfortable. As with all of Holden's work, it was an attempt to understand and form a multifaceted, layered response through thinking, collaborating and making, simultaneously.
Images: Maximim Irony! Maximum Sincerity, 1999-2003: Towards a Unified Theory of MI!MS, Andy Holden, 2013, Courtesy the Artist. Installation photography by Andy Keate.
---
[1] John Blamey, Andy Holden, Roger Illingworth, James MacDowell and Johnny Parry, 'M.I.!M.S, A Manifesto of Maximum Irony! Maximum Sincerity', 2003.
[2] John Blamey, Andy Holden, Roger Illingworth, James MacDowell and Johnny Parry, Ibid.
[5] Andy Holden, Maximum Irony! Maximum Sincerity, 1999-2003: Towards a Unified Theory of MI!MS, 2013
[6] Andy Holden, 25 April, 2014
[7] John Blamey, Andy Holden, Roger Illingworth, James MacDowell and Johnny Parry, Ibid.
[8]In early 2012 Holden showed the MI!MS Manifesto in a group show A Plea For Tenderness curated by artist David Raymond Conroy at Seventeen Gallery, London.
[9] All quotations from conversation between the author and Andy Holden in Spike Island cafe on 25 April, 2014
[10]Charlie Rose interviews David Foster Wallace, March 27, 1997, http://www.youtube.com/watch?v=mLPStHVi0SI accessed on June 12, 2014
[11] Andy Holden, 25 April, 2014
[12] Theoretically Speaking: Now & Beyond, Timotheus Vermeulen, Issue 141 September 2011 http://www.frieze.com/issue/article/theoretically-speaking/ accessed on May 20, 2014
[13] Timotheus Vermeulen, Ibid.