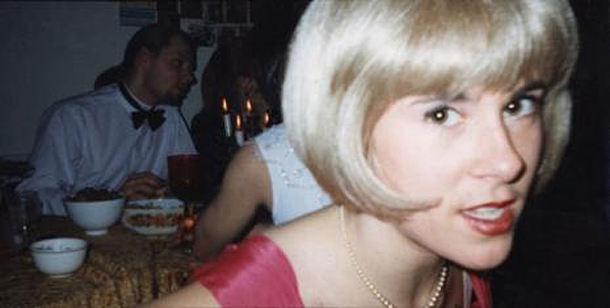 Hi. My name is Rachel.

I'm 36 years old, I'm happily married and I agree to this.[1]
These words, a recorded sound bite voiced over a motionless studio stage, open Third Angel's latest production The Life and Loves of a Nobody, which began its international tour in Sheffield, UK, last week. These opening words are, in fact, all we hear from Rachel. The play is, in some ways, a narrative act in itself with two cast members (Nick Chambers and Rachel Walton) telling us the story of Rachel's life. With the audience members positioned on either side and the performance staged in traverse, these narrators begin by directly addressing the audience: They thank us for coming, for choosing to be at the Studio in Sheffield's Crucible Theatre this particular evening… And then they embark upon Rachel's story – a story, they tell us, structured in two halves.
Rachel, it turns out, is rather ordinary: She grows up in a tower block, her parents separate when she's young, she falls in love, she marries, she divorces, and life goes on… Rachel's life and loves are, then, not that different from any of our own, and her life story is rather mundane. She is the 'nobody' of the title; she could be anybody; but she wants to be 'somebody'. That is, all her life, Rachel dreams about being famous – as she watches old 1950s musicals as a girl and when she joins the circus hoping for a big break only to find herself flipping burgers during her failed college years.
In telling Rachel's story, the narrators consistently refer to her in the third person. As they bring particular narrative episodes to life, they sometimes embody certain characters. Thus the audience watches some interactions in which the narrators temporarily transform into the characters, voicing dialogue as free direct speech. Such scenes always end abruptly, so that Chambers and Walton snap back out from character to narrator and the audience ontologically moves with them – from watching Rachel's life unfold to a position in which they are acutely aware that they are a member of the audience watching Third Angel perform The Life and Loves of a Nobody. At other times, Walton speaks of Rachel in third person, but her actions and emotional portrayal clearly depict Rachel in a manner that we might think of as a theatrical version of free indirect discourse, presenting the stance of both narrator and character simultaneously. This latter stylistic choice proffers the most affective response with two scenes – one narrating Rachel's childhood daydreams and another narrating an adult trauma – being both understated yet deeply moving.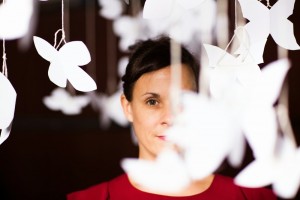 The stage set is similar in that props are in general rather low-fi. Chains of paper butterflies are dragged across the stage as a young teenage boy goes butterfly-catching in order to present Rachel with a book of butterflies in a declaration of love; tarpaulin is hung in front of both audience areas to construct a house as Rachel begins to make a home with her first husband. This choice of staging is of course deliberate. On one hand, the objects and materials that Third Angel have chosen are as everyday as Rachel's life while on the other, such commonplace materials are used to create fleetingly beautiful moments.
Judging the play on its first half, it would be easy to see The Life and Loves of a Nobody as a throw-back to the postmodern theatre of the 1990s, with its props and staging apparatus clearly visible to the audience and the absence of the main character Rachel who never appears on stage. Indeed, in this respect, it feels somewhat reminiscent of Martin Crimp's Attempts on Her Life (1997) in which the main character Annie is also notably absent. The likeness is superficial though since while Crimp's Attempts on Her Life neglects character in order to criticise the notion of a stable reliable sense of selfhood, this is evidently not the case with Third Angel's The Life and Loves of a Nobody in which Rachel's life and identity is developed as a consistent yet ongoing story.
Crimp's play has been classified as a work of what theatre critic Aleks Sierz dubbed 'In-yer-face Theatre' (2001), a loose grouping of British dramas aimed to shock audiences with the extremism of late twentieth-century life whilst also displaying a moral outrage to it. However, while in-yer-face theatre may have been angry, it revelled too overtly in the structures it claimed to find offensive to adequately critique them. Postmodern in-yer-face theatre does, though, provide a useful antecedent to Third Angel's The Life and Loves of a Nobody, but crucially one that it surpasses. In other words, while Third Angel might be drawing on discursive theatrical strategies that are decidedly postmodern, we can in fact position The Life and Loves of a Nobody as distinctly metamodern. This statement of course aligns itself with Linda Hutcheon's by now well know resignation in the epilogue to the second edition of her seminal book The Politics of Postmodernism (2002): when speaking of postmodern fiction, Hutcheon claims "The postmodern moment has passed, even if its discursive strategies and its ideological critique continue to live on – as do those of modernism – in our contemporary twenty-first-century world" (2002: 181).
In The Life and Loves of a Nobody, Rachel's identity evolves with her life story, but it is stable – key events are integrated into a developing sense of selfhood that the narrators construct for the audience. However, this is not to say that politics are absent from the play. Speaking in the after-show talk on Thursday 23rd January 2014, actress and artistic director Rachel Walton evoked the argument that the personal is political while fellow artistic director Alexander Kelly added that the root of the word 'politics' contains a sense of peoplehood ('politics' in fact comes from the Greek 'polis' for city, and thus citizens). Indeed, there is a social dimension to The Life and Loves of a Nobody; its story is deliberately one of an average everyday person. "Tiny everyday stories make up the epic', Walton continued, "Politically, those ordinary stories need to be told" (2014; after-show talk). Using the arts to refocus our attention on the human social world is a central argument amongst writers associated with post-postmodern sensibilities, such as David Foster Wallace (1993) and Jonathan Franzen (1996) as well as critics such as Robert L. McLaughlin (2004). Telling an everyday story of an ordinary social life is not, however, enough to build an argument for The Life and Loves of a Nobody as a metamodernist play. So what else makes it metamodern? To answer this, we must consider the second half of the play – and I should warn readers that this is a spoiler so if you're going to see The Life and Loves of a Nobody, stop reading now!
Rachel, we are told, has found an advert for an audition. This is her chance. Finally, this could be her big break. Walton transforms into Rachel and we watch her audition/screen test in which she talks about herself and why she wants to be famous, and we deduce from this that Rachel is auditioning for a reality TV show. Being herself – being a nobody or an anybody – is exactly what, she hopes, will make her a somebody and in the audition, Chambers says, Rachel "dazzles in her desperation". Then, a chair is placed centre stage and two briefcases are placed on the ground – one in front of the chair and one behind – next to which Chambers and Walton stand. We have reached the second half of the show in which, we are told, we will decide what happens to Rachel. We are in control of her destiny – will we choose to make her dreams come true by granting her the fame she's always longed for?
Chambers and Walton open their briefcases in sync and each bring out an object. Chambers places a gun on the floor; Walton a knife. There is an audible gasp from the audience. "If you choose the knife", Walton tells us, "I'll cut her once across the throat and once through the heart". "And if you choose the gun," Chambers joins, "I'll do the same. I'll shoot her once in the head and once in the heart". He looks to the audience cheekily: "It's going to be a much shorter second half". As they discuss these options, the audience are faced with a choice: How to kill Rachel, not If – How. This public execution, it seems, is the price Rachel is prepared to pay for her 15 minutes of fame, a phrase Andy Warhol used in 1968 in a prediction about the future and it seems darkly relevant. Indeed, as a member of the company mentioned in the aftershow talk, the play's ending couldn't be more relevant or more poignant to today's celebrity culture: The same week as Third Angel's play showed in Sheffield, a news story broke of an 8-year old boy who died saving 6 family members from a New York house fire; In a sound bite filmed for the TV Channel WROC, the mother said of her son Tyler Doohan's bravery: "He made it big, he made it really big and I'm really proud" (see Saul 2014). There is of course no doubting the heroism of Tyler's final act in his life. I quote this though since the language used by his mother, as she finds solace amidst her grief, highlights the distorted value placed on fame in contemporary society.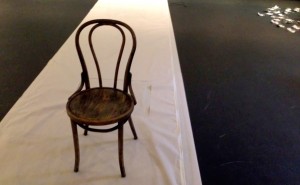 There are two aspects to the second half that, for me, show The Life and Loves of a Nobody to be metamodernist. The first is the way in which it reframes the audience. Throughout the first half, we are audience members watching The Life and Loves of a Nobody and the way in which Chambers and Walton move from narrator-to-character-and-back alongside their frequent direct address to the audience constantly reminds us that we are here, enjoying an outing to the theatre. However, the second half provokes a revision of this: We are now and in fact have been the whole time, the audience of the show for which Rachel auditioned (and the show tells us Rachel's story before asking us to make a choice over the final scene – her death). This darkly cynical final scene, reminiscent of the stories in Charlie Brooker's Black Mirror TV series, repositions us as an audience ready to vote on Rachel's death. The scene critiques not only celebrity culture but public televoting on TV shows and as such, it shows up the general public's complicity within such a culture. Secondly then, in doing so the scene provokes contemplation from audience members. Indeed, in the after show talk Walton said "its not about telling the audience what to think but about asking them to reflect, possibly on their lives, on selfhood, or contemporary culture" (2014; after-show talk). The Life and Loves of a Nobody is metamodernist then in the way in which it focuses on the individual and the social, in its critique of contemporary culture, and in its relational positioning of the audience: the audience is positioned as part of the play's narrative, the play raises questions (ethical, social and political) for the audience rather than delivering a didactic message, and it shows up the audience's involvement within the culture it critiques.
Returning to the final scene, just as we think Chambers and Walton will ask us to choose, we hear Rachel's voice-over for the second and final time:
Hi. My name is Rachel.

I'm 36 years old, I'm happily married and I agree to this.
The lights fade to black.
---
[1] Quotations from the play are approximations based on memory since a script has not been made publicly available, as are quotes from Third Angel in the after-show talk, which I recorded at the time in notation. No misrepresentation is intended.