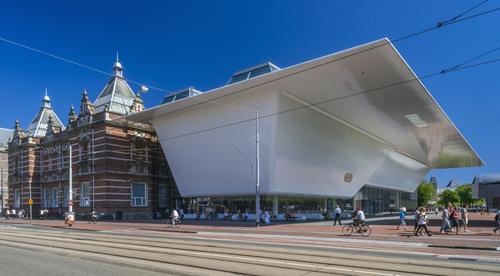 Timotheus Vermeulen, one of NoM's founding editors, has just published a piece in Frieze discussing the reopening of the Stedelijk Museum in times of metamodernism. He writes:
In the cultural industries things have changed considerably as well. The cultural logic of Postmodernism has been displaced by another sensibility: metamodernism (of course, this is a global phenomenon, not just something happening in the Netherlands). In the domain of Dutch literature, writers like Joost Zwagerman and Arnon Grunberg, whose work was previously associated with irony and fatalism, have recently published novels that were praised for their sincerity and hope. Others, most famously the Flemish author David van Reybrouck, returned to the long-forgotten art of epic storytelling. In the field of fashion, designers such as Jantine van Peski and Iris van Herpen take pride not in eclectic deconstruction but in sustainability and craftsmanship. And, in the arts, we have recently witnessed the return of all the above, often in the unlikely form of Utopia. The works of artists like Persijn Broersen and Margit Lukács (whose 2010 filmMastering Bambi was screened in 2011 as part of the second 'Temporary Stedelijk' exhibition), or of Guido van der Werve (whose work is part of the Stedelijk's permanent collection), Pilvi Takala and Yael Bartana (who are, respectively, Finnish and Israeli, but who live in Amsterdam) are, each in their own way, structuring their practices around Utopian ideas. Meanwhile, museums in Amsterdam – as elsewhere – have had to negotiate their position within an expanding art world of proliferating fairs and biennials. Since 2004, a number of initiatives have popped up, including Lost Property, Kunstverein, P/////AKT and RONGWRONG: small, flexible organizations that are able to put on exhibitions, films, plays and debates that adapt to the swiftness of the times. The 'contemporary' can no longer be found in one place; it is something that sprawls.

(…)

In 2003, the Stedelijk Museum was a leading establishment of contemporary art and culture; it was the wheel around which not just the Amsterdam art scene, but the Dutch cultural sector spun. On a global level, too, it had a good reputation. The question is: how will it adjust to today's situation? Where will it place itself now that there is no longer a centre? How will it improve on the debates organized by the galleries and cultural institutions? How will it negotiate global and local interests? Will it go for the blockbuster retrospectives, or will it head the way of the Van Abbemuseum in Eindhoven (i.e. putting together experimental, often conceptual, shows with lesser-known artists, drawing applause from the international community while receiving criticism from local government)? I imagine it will try and do it all at once. In some ways, it will also have to pull at two ends of an elastic band: between global show-off and local obligation, between blockbuster and difficult debate, between television feature and unknown artist – like the country in general. But I'm optimistic. Let's just hope that elastic band won't snap.
You can read the full article, along with two other features on the Stedelijk by Nick Aikens and Maxine Kopsa, here.
Photo: John Lewis Marshall. Courtesy: Stedelijk Museum.