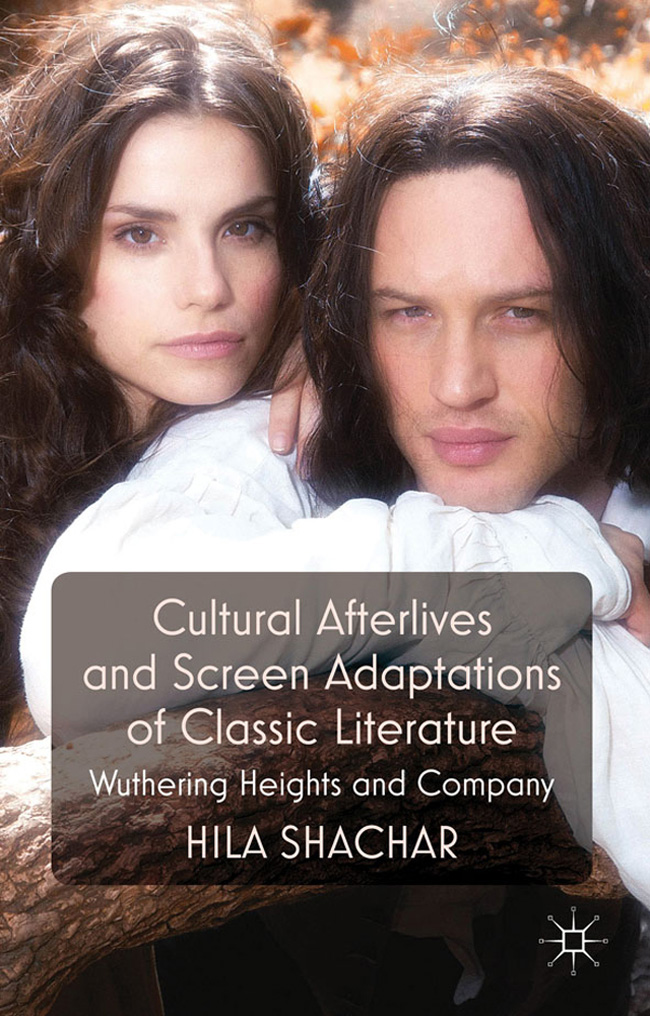 I previously published an article on costume films on Notes on Metamodernism, and this piece was part of a wider area of research I've been undertaking in the last couple of years, culminating in a book study. Last week saw the publication of my new book, Cultural Afterlives and Screen Adaptations of Classic Literature: Wuthering Heights and Company, published by Palgrave Macmillan. As one of the editors for Notes on Metamodernism, I'd like to share some details on this book here, which may be of interest to our readers.
The book description reads as follows:
The image of Emily Brontë's famous characters, Catherine and Heathcliff, traversing the romantic English moors, has come to define the meaning of her nineteenth-century novel, Wuthering Heights. Yet, it is an image that has been invented by the novel's film and television adaptations. Cultural Afterlives and Screen Adaptations of Classic Literature examines what happens to literary works when they become part of cultural memory through continual screen adaptation. Moving from the 1930s to the current age, Hila Shachar explores the cultural legacy and screen 'afterlife' of Brontë's Wuthering Heights alongside its company of other adaptations from the works of Charles Dickens, Jane Austen, Charlotte Brontë, and others. Shachar situates the analysis of these adaptations within a historical context, examining how cultural trends influence how a classic work is adapted, and in turn, how adaptations help shape perceptions about national identities, history and gender. The scope of this examination is wide, ranging from subjects such as feminism, heritage cinema, costume films, popular teen culture, music video television, neo-Victorianism, French cinema, the rise of English Studies, classic Hollywood cinema, and others. Written in a lively manner, this book offers a long overdue discussion of popular film and television adaptations that have not been examined before, providing an understanding of how these adaptations help shape our cultural landscape.
Focusing primarily on screen adaptations of Wuthering Heights, Cultural Afterlives and Screen Adaptations of Classic Literature approaches adaptation within a historical and cultural context. For example, some chapters may tackle adaptations through the lens of Heritage Cinema and Costume Film theory, while others may analyse them by examining issues of feminism, tourism, the context of the Two World Wars, nationalism and propaganda, Hollywood conventions, postmodernism, contemporary audiences, and many more. In this book, I try to steer adaptation theory and analysis away from pure formal or aesthetic comparisons between the novel and the screen, instead, examining both as cultural productions that are influenced by, and help shape, cultural concerns.
Cultural Afterlives and Screen Adaptations of Classic Literature also aims to update the discussion on screen adaptations by bringing it in line with contemporary scholarship on neo-Victorianism and the representation of history in the current age. This ties in strongly with some of the themes explored on Notes on Metamodernism, as I analyse the complex ways in which modern societies express their identities, politics and sense of belonging through their cultural productions. In doing so, I examine many recent film and television adaptations that have not been substantially analysed before. The focus on Wuthering Heights adaptations ultimately seeks to explore both the general influences that shape the adaptation of well-known literary works, and also, the particular cultural phenomenon the novel has become through its continual adaptation. Cultural Afterlives and Screen Adaptations of Classic Literature would also be very suitable for undergraduate or postgraduate courses in Film, Screen and Adaptation Studies.
If you are interested in purchasing a copy for yourself, or for your library/institution, the book is available for purchase online from Palgrave's website, or you can download a flyer with an order form. You may also be interested in the informational page on the book on my own blog. Here are a few more details:
• Click here to purchase online
• Click here to read a preview sample of the first ten pages, index and contents page
• Click here to create and print out an order form
Requests for review or promotional copies should be directed to: reviews@palgrave.com, or visit Palgrave's contact page. And feel free to email me if you have any questions about the book.