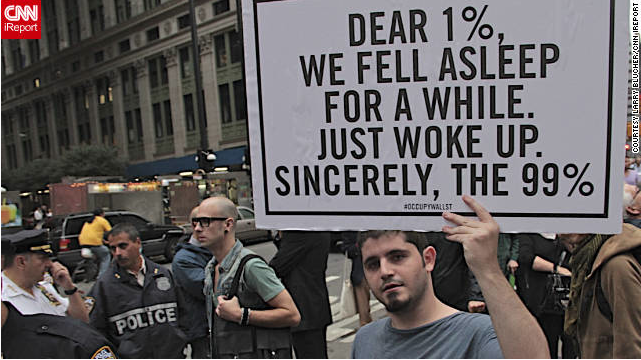 "Think Occupy Wall St. is a phase?", media theorist Douglas Rushkoff writes on CNN.com – "You don't get it." According to Rushkoff, the recent protests, demonstrations, bridge-ins, walk-ins and sit-ins are less exceptions to that old postmodern rule of compromise and neoliberal fundamentalism than symptoms of a new paradigm.
Anyone who says he has no idea what these folks are protesting is not being truthful. Whether we agree with them or not, we all know what they are upset about, and we all know that there are investment bankers working on Wall Street getting richer while things for most of the rest of us are getting tougher. What upsets banking's defenders and politicians alike is the refusal of this movement to state its terms or set its goals in the traditional language of campaigns.

That's because, unlike a political campaign designed to get some person in office and then close up shop (as in the election of Obama), this is not a movement with a traditional narrative arc. As the product of the decentralized networked-era culture, it is less about victory than sustainability. It is not about one-pointedness, but inclusion and groping toward consensus. It is not like a book; it is like the Internet.

Occupy Wall Street is meant more as a way of life that spreads through contagion, creates as many questions as it answers, aims to force a reconsideration of the way the nation does business and offers hope to those of us who previously felt alone in our belief that the current economic system is broken.

[…]

Yes, as so many journalists seem obligated to point out, kids are criticizing corporate America while tweeting through their iPhones. The simplistic critique is that if someone is upset about corporate excess, he is supposed to abandon all connection with any corporate product. Of course, the more nuanced approach to such tradeoffs would be to seek balance rather than ultimatums. Yes, there are things big corporations might do very well, like making iPhones. There are other things big corporations may not do so well, like structure mortgage derivatives. Might we be able to use corporations for what works, and get them out of doing what doesn't?
Image: Larry Blucher for CNN.com.