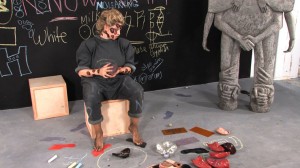 The 4th Moscow Biennale of Contemporary Art, beginning the last week of september, will run a cinematic program on metamodernism. Curated by Jake Yuzna, No More Modern: Notes on Metamodernism pairs recent video works by Mariechen Danz, Benjamin Martin, Sharyar Nashat and Pilvi Takala with free copies of Vermeulen & Van den Akker's essay Notes on Metamodernism. Read further for full curatorial statement.
In the brief years of our current 21st century, theorists have attempted to tackle the question of what comes after modernism and postmodernism.  Only recently a new terminology has emerged to situate and explain recent developments across current affairs, critical theory, philosophy, architecture, art, cinema, music and literature: metamodernism. Introduced as an intervention in the postmodernism debate by cultural theorists Timotheus Vermeulen and Robin van den Akker in their 2009 essay Notes on Metamodernism, metamodernism asserts that the 2000s where characterized by the return of typically modern positions without altogether forfeiting the postmodern mindsets of the 1990s and 1980s.

Hailing from different countries, these works all illustrate Metamodernism as a continuous oscillation a constant repositioning between positions and mindsets that are evocative of the modern and of the postmodern but are ultimately suggestive of another sensibility that is neither of them.  A discourse that negotiates between a yearning for universal truths but also an (a)political relativism, between hope and doubt, sincerity and irony, knowingness and naivety, construction and deconstruction.

They suggest that the metamodern attitude longs for another future, another meta-narrative, whilst acknowledging that that future or narrative might not exist, or materialize, or, if it does materialize, is inherently problematic. Even this program's title, No More Modern: Notes on Metamodernism, oscillates between a proclamation of earnest desire to break from the history of modernism while also acknowledging the irony in the impossibility of such a quest.  Together thes works present this recent skeptic, but hopeful, turn in critical theory and cultural production.  Not a collection of a 'new school' of metamodernism artists, No More Modern: Notes on Metamodernism showcases a sampling of works that present a new perspective in contextualizing our world in the new millennium.
Top image: Mariechen Danz (2011). KNOW AEON, KNOW OMIT.  Courtesy Gallerie Tanja Wagner.