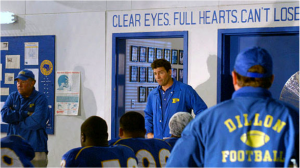 Time Magazine once described the first ten years of the new millennium as the decade from hell  –  a decade littered with wars and terror attacks, natural catastrophes and economic crises. The resulting sense of dread, pessimism and despair seemed to be reflected by the seemingly endless parade of antiheroes and sociopaths, drug dealers and murderers, self-centred egomaniacs and morally ambiguous characters populating the fictional worlds of (what critics have termed) Quality TV. The sociopathic New Jersey mafia boss Tony Soprano (The Sopranos HBO, 1999-2007), the self-absorbed funeral home running Fischer family (Six Feet Under HBO, 2001-2005), the four materialistic and hedonistic New York gals (Sex and the City HBO, 1998-2004), the ruthless bar owner Al Swearengen (Deadwood HBO, 2004-2006), the weeds distributing mother from hell Nancy Botwin (Weeds Showtime, 2005-?) and the cold-blooded serial killer Dexter Morgan (Dexter Showtime, 2006-?) all became favoured fictional companions.
Of course Quality TV cannot be entirely equated with protagonists with questionable moral standards. The  somewhat more fantastical shows, especially, showcased  some old-fashioned, albeit rather flawed, heroes. Think for example of Buffy The Vampire Slayer (WB and UPN, 1997-2007) or Battlestar Gallactica (Sci-Fi Channel, 2004-2009). But overall there was something intrinsically dark, depraved and cynical about many of the TV-shows from the first decade of the millennium. Watching shows such as The Sopranos, Six Feet Under, Dexter and Weeds often felt like what might best be explained as a masochistic voyage  to those darker corners of the human psyche where killing a family member, cheating on your pregnant wife or neglecting your children is standard behavior. The completely egoistical actions of Nancy Botwin, Tony Sopranos' chilling sociopathic behaviour (perfectly captured by Christopher's death scene), the egocentric and always whining Fischer family or Dexter's rather deathly form of therapy might have been highly entertaining, intriguing and mesmerizing, but they were also depressing, disheartening and emotionally unappealing, if not, unsatisfying. To be sure, I am not interested in moral judgements. The point is that the viewing experience of dramas such as The Sopranos, Six Feet Under or Weeds drew more on fascination than identification. For it is, I hope, difficult for most viewers to really identify, connect and relate to, say, a Dexter Morgan.
In my previous piece on Community  I wrote about the single camera sitcoms' tonal shift from 'heartless' to 'heart'. A similar tendency seems to be prevalent in American television dramas as a new type of hero seems to be emerging. The violent but principled US Marshal Raylan Givens in Justified (FX, 2010-?), the shaggy but well intended P.Is in Terriers (FX, 2010), the struggling but proud musicians in Treme (HBO, 2010-?), the morally troubled intelligence analysts in Rubicon (AMC 2010), and the middle aged men in Men of A Certain Age (TNT 2009-2011) actually try to do the right thing – even though they often fail to do so. Rather than displaying despair and cynicism these new shows also highlight the sincere and the earnest. This is not to say that these dramas do not take their characters down dark and disconcerting roads, they do, but they do so with a profound sense of warmth and empathy for their characters.
Friday Night Lights (NBC/Direct TV 2005-2011) was for a long time one of the very few 'Quality' shows that displayed a feeling of optimism and hope – and, it can be argued, some sort of prototype for these 'new' type of shows. It was a low-key, underrated show about a football crazed Texan small town centred on the local High School Football team. On the one hand, FNL featured rather dreary and depressing themes such as dementia and disability, poverty and unemployment. And the show never shun away from controversial themes such as war, race- and class issues or abortion (it is one of a handful of American shows ever to really deal with abortion). But on the other, FNL also highlighted the joys of community, teaching, kindness, friendship and family. It offered a realistic portrait of flawed but compassionate characters aspiring for something better – even after tragedy strikes. Yes, FNL is the kind of show that takes the 18-year old hero, puts him in a wheelchair and then let him deal with it.
Clearly FNL points to a difference in sensibility when compared to early 2000 dramas such as The Sopranos and The Wire. As Time television critic James Poniewozik writes: "Just as HBO's crime-drama masterpiece The Wire was a searing vision of what is wrong with America, Friday Night Lights has been a clear-eyed, full-hearted tribute to what is right with it." Timotheus Vermeulen and Robin van den Akker (2010) characterize the metamodern  sensibility as something that exists "between hope and melancholy, between näıvety and knowingness, empathy and apathy, unity and plurality, totality and fragmentation, purity and ambiguity." And FNL is just that. It characters fail but never fail to try, while they constantly oscillate between the disagreeable and the hopeful, failure and compassion. Perhaps the shows' and the shows characters' admirable attitude is best summed up by the uplifting mantra of  Coach Taylor, the main character: "Clear eyes, full hearts, can't lose!"
While for example Breaking Bad (AMC 2008-?) portrays a morally ambiguous character such as the crystal meth producing Walter White, FNL features 16 year-old Matt Sacaracen who never once considers a career in the drug producing business to make ends meet. Matt rather chooses, what most people would, to take a shitty job at the local fast-food place to be able  to take care of his deteriorating demented grandmother. So whereas Walter White will remain only a fascinating character, the struggles (and there are many) of Matt Saracen will break the heart of the most cynical of viewers. FNL might not be as morally complex as say Breaking Bad or The Sopranos, but it not precisely because  it is such a a complex human drama. As Alan Sepinwall points out: "There's a level of honest, raw humanity in "Friday Night Lights" that few TV dramas have ever achieved."
It is indeed easier to feel sympathetic towards – and cry because of – the graceful way in which Matt deals with his troubles. The Taylors and teenagers from FNL, the charming musicians trying to make a living in Treme or the mundane (digestive) troubles of the middle-aged in Men of A Certain Age resonate emotionally. There simply is something very human, recognizable and realistic about the characters and their lives on shows such as Treme, Men Of a Certain Age and FNL. The slow unfolding of their sometimes pleasant sometimes complicated everyday lives is far more familiar to us than the explosive lives of gangsters,serial killers and drug dealers. As television critic Mo Ryan writes:
There was no distance between the residents of Dillon and us. In ways we'll be appreciating for years to come, 'FNL' consistently created a bond of empathy and compassion between the people on the screen and the people on the couch. Like few other shows, it was able to create incredibly potent emotional states that reached right into your gut and heart; it depicted and induced happiness and sadness and many inarticulate states in between.
FNL represents, in other words, a new generation of television shows that offers a different viewing experience. We are no longer merely fascinated by the protagonist's behavior, but we are invited to identify with – and even connect to –  characters whose everyday lives are as troubled and untroubled as ours.