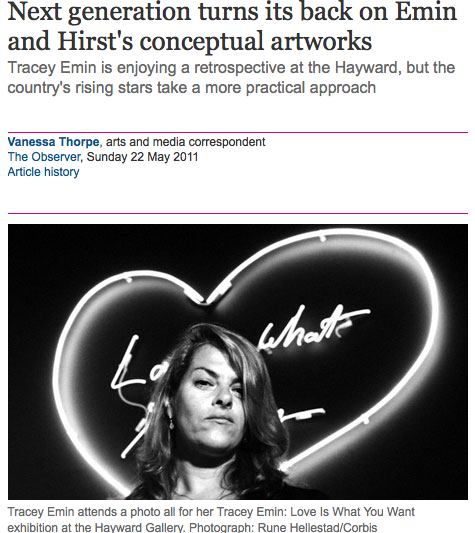 Vannessa Thorpe, arts and media correspondent for The Observer, perceives a new generation of artists turning its back on the by now anachronistic YBAs. "As some of the former rebels of the notorious Young British Artist movement are accused of selling out to "the establishment", a new generation is taking their place, flaunting an altogether new aesthetic." Is she on to something? Yes she is. What is she on to? A rather metamodern aesthetic, if you will…
The reign of "the concept" in modern British art is finally over: long live "the object" (..) The freshest art on the contemporary scene appears to have turned its back on the ironic jokes and personal confessions epitomised by Tracy Emin's notorious unmade bed and Damien Hirst's dead floating shark. Emin's high-profile retrospective at the Hayward Gallery on the South Bank may be pulling in the London crowds, but she alienated many of her peers last week by confirming her Tory sympathies and backing the government's latest round of arts cuts. Damien Hirst also ruffled some liberal feathers by happily rubbing shoulders with billionaires at the last Davos summit.

And as the most famous and iconoclastic of the YBAs start to lose their shine as role models, the art world's best-known curators and commentators claim a new earnestness is sweeping the country's better art schools and informing the work of their successors.
read full article here.
Screenshot: courtesy guardian.co.uk