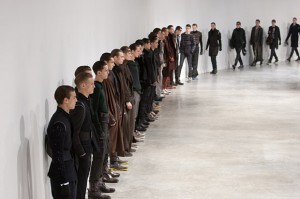 'It is only with the heart that one can see rightly; what is essential is invisible to the eye', Antoine de Saint-Exupéry wrote in his famous novel "Le Petit Prince". The same can be said of Lucas Ossendrijver's designs for Lanvin Homme. While from the outset his work has been turning-heads and singular in a number of respects, the clothes' most interesting features reveal themselves only up close; that is, when you get to touch and feel them, and get in contact with all the fine little details hidden inside the garment.
A graduate of the ArtEZ Institute of the Arts in Arnhem, Ossendrijver finished his studies the same year as his Dutch compatriots Viktor&Rolf, with whom (and other fellow graduates) he subsequently went to form the collective 'Le Cri Néerlandais'. After a brief stint at the women's wear label Plein Sud Ossendrijver worked for Kenzo Homme, Kostas Murkudis, and Dior Homme where he assisted Hedi Slimane and later was charged with the brand's 'Classic Line'. In 2005, eventually, he was appointed director of menswear at Lanvin.The designer admits that it was not before he had bought a hand-tailored jacket at a flea market that he developed a fascination with menswear and its inherent structures. At a closer look, it is indeed hard to ignore how the aesthetic register he draws on is distinct from that of most competitors. His designs seem to strike a different key. There is an air of discreetness and subtlety to his clothing rarely seen in menswear today, both of them giving his work an oddly beautiful twist. Think his S/S 2010 dinner jacket made of wool which is combined with a pair of shorts in techno fabric, and a silken belt and tie, all of them in his signature palette of muted, strangely luminous colours. Or, take his frequent use of washed fabrics, which give the clothes their characteristic lived-in look and emphasise the garments' tactile properties or, in his words, their "soul".
From all this exudes a sense of fragility, intimacy, and nonchalant elegance, which to a good extent is owed to the designer's preferred working method. Rather than taking silhouette or colour as a point of departure, most of his designs take their cues from fabrics and their tactile properties. Similarly, the process towards the final product is driven by a hands-on approach, so his collections are hardly ever designed on the drawing board but, instead, are constructed in the workroom by cutting, disassembling, and reconfigurating vintage finds and combining them with samples from earlier collections. In so doing, the working method is largely experimental and intuitive, structured around sentiment rather than themes, spontaneous rather than preconceived.
Undoubtedly, the results strike a chord with men's preferred looks at present. Beyond that, however, they epitomise an aspect that has (re-)gained mileage in fashion during the past couple of years. Leafing through fashion glossies or looking at the latest ad campaigns of fashion's sure-fire trendsetters, one cannot fail to recognise the 'artisanal turn' of late; i.e., a shift towards tactility and craftsmanship – both of which residues of authenticity and all things indigenous – which looms large in advertising campaigns and brand propositions. While it doesn't take much to observe how Savile Row at present is down in struggle and attempts to update the portfolios of its tailors to make them attractive also for a younger public, many a fashion brand have jumped on the authenticity carriage hoping to attune their collections to consumers' apparent desire for 'realness'. To name but one, even Louis Vuitton, traditionally a supplier of high-octane 'gloss up, hands down' marketing campaigns, has recently started to talk in a different tongue and connect its products to two central themes: nature and craftsmanship.
The question, then, is what the recent interest in authentic and genuine products tells us about the spirit of the age? Looking back down the timeline for a moment can be helpful here. It is understood that postmodernity's exuberance was a reaction to the bleak fashions of the 1970s. Playful and experimental, irreverent and omnivorous, the decade's phantasmagorical wonderland nevertheless came at a price: no shelter from the ubiquity of screaming billboards and, more generally, a world at a tumble. Clearly, once every bit of subtlety is ridden roughshod by omnipresent white noise, what's left to say? And who would listen, after all? Correctly, David Harvey (1990, p. 44) summed up the decade's definitive social condition by stating,
I begin with what appears to be the most startling fact about postmodernism: its total acceptance of ephemerality, fragmentation, discontinuity. But postmodernity responds to the fact of that in a very particular way. It does not try to transcend it, counteract it, or even to define the 'eternal and immutable' elements that might lie within it. Postmodernism swims, even wallows, in the fragmentary and the chaotic currents of change as if that is all there is.
By turn, 1990s minimalism from the likes of Helmut Lang and Jil Sander was a period of detox and drying-out, an escapist move from the previous polyvorosity, kitsch, and a pick-and-mix aesthetics. Ironically, the period's trademark look – variations of black-and-white, light fabrics, and attention to quality and detail – ultimately had reached a level of "subtlety" it became all but sterile and meaningless and failed to reach people. At their best, these were looks fit for gallery owners or architects with a penchant for 'understatement' which, in the end, meant no statement at all.
It is not by accident that just now, at a time where we are increasingly faced with questions over sustainability or a recession-sacked outlook to the future, this newly-awakened longing for authenticity and a visceral registry have come to the fore. Polemically speaking we might say this period is not altogether different from postmodernity. Again, we have entered a moment of crisis. Again, the manifest destiny of many a Western nation has come under menace. Again, we are confronted with the task to find solutions to problems we previously did not know they existed. Fashion theorist Elizabeth Wilson (1992, p. 3) once noted that
The term 'postmodernism' appears to perform a function similar to that of the term 'decadence' applied to the 1890s: although the times and the terms are different, perhaps there is something about the end of a century that impels us to find a dominant theme, a mood, as we slide towards an end that is also a beginning.
And yet, there is an important different between then and now if we look at the way contemporary culture has responded to these multiple moments of debris. Whereas postmodernity desperately attempted to cover up its world-weary disbelieve by giving it multiple coats of paint and a grim and mischievous smile, we are currently experiencing a stage of disclosure and threadbare absolution.
Accepting that the present stage of reorientation and change has caused a different outlook on the world and its concomitant demands, it is probably not all that surprising how Ossendrijver's work reflects what's at stake for many of us; i.e., fragility and fear of falling, but also sincerity, tactile moments, a sense of timelessness (as far as fashion's 'here today, gone tomorrow' adage permits), something that balances and mitigates the knelling presence of a destination unknown. Fittingly, Caroline Evans (2003, p. 6) remarked that:
On the edge of discourse, of 'civilisation', of speech itself, experimental fashion can act out what is culturally hidden. And, like a neurotic symptom, it can utter a kind of mute resistance to the socially productive process of constructing an identity. As we produce a disciplined and controlled self… what is repressed comes back as a trace, of which experimental fashion can function as a tell-tale memory.
Not unlike all other historical periods before, it's a transient stage we have entered and meta-modern sentiment does not differ from its precursors in the sense that it seeks to make sense of the world and find solutions to problems posed by contemporary life. Perhaps, Ossendrijver's is one of them.
Bibliography
Evans, C. (2003). Fashion at the Edge: Spectacle, Modernity, and Deathliness
New Haven, CT [etc]: Yale University Press
Harvey, D.W. (1990). The Condition of Postmodernity
Cambridge [etc.]: Blackwell
Wilson, E. (1992). Fashion and the Postmodern Body. In: Chic Thrills: A Fashion Reader / ed. by Juliet Ash and Elizabeth Wilson. pp. 3-16