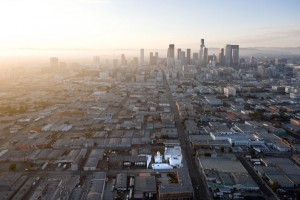 Between October 3rd, 2010 and January 3rd, 2011, the Museum of Modern Art (MoMA) in New York held an exhibition entitled 'Small Scale, Big Change: New Architectures of Social Engagement'. The show presented eleven projects, across five continents, and sought to highlight both the social commitment of the architects (and others) involved and the functinonal, pragmatic requirements of the designs. The scale of the projects are relatively small, ranging from a Primary School in Burkina Faso to Metro Cable in Venezuela, but reveal a renewed emphasis on socially responsibility within pockets of the architectural profession, to enact social, economic and political change on a much wider scale through interventions.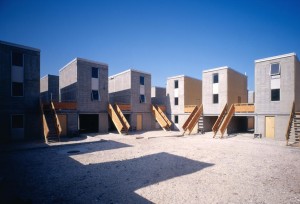 This renewed emphasis on the socially enabling qualities of architecture reflects a return to the social ideals championed by proponents of the Modern movement, in the 20th cenutry (particularly organisations such as the Congres Internationaux d'architecture moderne – CIAM). However, these schemes are set apart from their 'Modern' forebears by their commitment to practical, pragmatic solutions as opposed to autocratic utopian visions which weren't implemented, in part, because of their massively unrealistic scale. Furthermore, as the exhibition description states:
"These projects have been selected from an increasingly large number of similar initiatives around the world because they exemplify the degree to which architects can orchestrate change, prioritizing work that has social impact but also balances very real concerns of cost, program, and aesthetics. They succeed in providing communities not only with physical spaces but with opportunities for self-determination and an enhanced sense of identity. As a result, these architects are both designers of buildings and moderators of change. Their integrative methodologies could serve as models for the profession at large."
In addition to the eleven built projects – situated in Bangladesh, Brazil, Burkina Faso, France, Lebanon, South Africa and the United States – highlighting the social values of architecture, they also highlight an interest in local architectural styles and traditional materials. The use of local materials and styles shows how the ideals of postmodernism, when history and local conditions were once again allowed to inform architectural form, are still influencing architects but that certain elements, such as wit and irony, are being replaced. This is also reflected in the particpartory design processes being implemented by the architects, to ensure that the local communities, the end users, are involved in the design and decision making processes. The built projects are supplemented by three internet-based networks, highlighed by the exhibition. These networks look to expand upon the themes explored and share information and experiences, through community leaders, architects, and nongovernmental organizations, to other parts of the world not directly influenced by these projects
In a recent lecture at the Manchester Architecture Research Centre (MARC) Dr Gavin Melles (Swinburne University, Australia) used the exhibition to reinforce his proposition that there is currently a generational shift taking place within the profession, a zeitgeist of new pragmatism within architecture and design. He described the exhibition's featured projects as having "pragmatist aesthetics" but that the architects "want their buildings to make a difference". Whilst Sharon McHugh in her review of the exhibition on World Architecture News described the work as being "appropriate for our time and a call for 'Incrementalism'". Furthermore, the growing interest in socially responsible architecture projects can be seen in the November 2008 issue of Icon Magazine ('Activist Architects') and even the American pavillion at the Venice Biennale 2008 (reviewed here) which responded to specific problems with practical (if experimental) solutions.
The full exhibition is viewable online through an accompanying interactive microsite.
top image: courtesy Iwan Baan/small scale, big chance; lower image: courtesy Tadeuz Jalocha/small scale, big change.