The first thing that distinguishes Hollywood-actor-turned-fashion-designer Thom Browne from most fellow American designers is his lust for provocation but also a certain rigidity and appeal to discipline. An American through and through, his designs are as iconic in referencing his national background as they emblematise a critique of the US Establishment which, in his opinion, is largely responsible for the fact that the country's penchant for casualty (think the notorious pair of jeans and a white T-Shirt) has encroached upon every part of social and working life. Browne, by contrast, is obsessed with classical suits. Next to the full monty of traditional menswear these come in countless grey-on-grey variations, so as to re-instantiate a sense of formality and sharpness to men's attire. With each piece under the Browne label hand-made by local tailors from the NY-area, his clothing is rich with sartorial tricks and attention to detail as well as an eye for quality.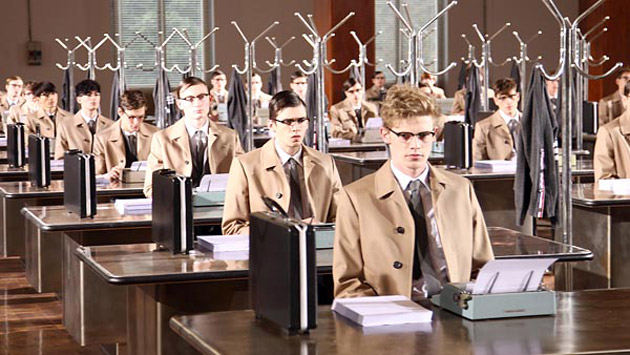 The recipient of the 2006 CFDA's Menswear Designer of the Year Award, Browne lacks formal education in fashion design but, fittingly, learned the business of clothes-making from scratch at a tailor's studio. Continuously referencing this background in his work, he has become synonymous with an edgy look that is comprised of high-waisted trousers ending at the ankles (preferably worn without socks); cropped, soft-shouldered, and tight-fitting jackets with high armholes and shorter sleeves; and the pairing of wool and tweed in combination with structured heavyweight fabrics such as cashmere felts or Cavalry twills. Beyond these more obvious properties, however, there is something more to the clothes. Citing 1950s and 60s images of then-ubiquitous Sears catalogues, Brooks Brothers, and the young John F. Kennedy as sources of inspiration, Browne's designs exude a sense of nostalgia, which is paired with state-of-the-art fashion design and the occasional nod to a future yet to come. An examination of American elegance, the clothing is not about copying or transplanting mid-century spirits into a contemporary context, but rather about distilling the underlying sensibilities and translating those into a 21st century idiom
Oscillating between then and now (and, occasionally, beyond), it would be too easy to push his work into the rather unmeaning retro and vintage corner, which has become all but an expletive for a zeitgeist that tries to find expressions of contemporary sensibilities inspired by the past. Neither can his designs be considered post-modern, though. Above all, post-modern fashion was defined by parataxis, hypotony, and a virtually omnivorous pick-and-mix aesthetics, which produced a look that was neither here nor there but, rather, emblematised the period's sense of general anaemia through the looking-glass. Undoubtedly, in places few and far between, post-modern fashion designs were strong in the sense that many of them – from Versace's baroque aesthetics to Thierry Mugler's Star Wars-inspired looks – came as visual heavyweights playing the whole gamut of historical sources. Still, the fact remains that post-modern fashion in most cases merely acted on this heritage, it never reacted to it. The consequence were aesthetic superchargers that simultaneously spoke of visual hyperbole and contingent, pre-empt messages. Fittingly, Wunderkind's Wolfgang Joop once remarked that "the eighties were easy in the sense that you got away with practically every kind of look without being sanctified either by the public or the fashion press". As far as postmodernism's rather irreverent and de-contextualised deboning of the past is concerned, one might daresay he was right.
Thom Browne's designs, on the other hand, are uneasy. In fact, they provoke, polarise, and require discipline as well as a particular physique to look neat on the wearer. Taken by these qualities, his work can be considered a compression of traditional American menswear which at once adheres to its guiding principles while, however subtly, breaks with all of them. This simultaneous embracing and refusal of convention becomes most apparent in the bespoke business he runs next to his ready-to-wear line. In contrast to the traditional procedure where the customer determines the garments' specifications and final look the designer offers his clients all-out Browne pieces, made according to his aesthetic premises and altered only to fit the customer's individual proportions. This specific play on modern sensibilities within a 21st century context make him a notable exception in the chutes of the rather interchangeable US fashion industry. His designs are sincere in the sense that they are true expressions of what he understands as "American". As noted above, Browne's designs evoke a sense of nostalgia – the good old days of mid-century America when the Sears catalogue was placed on middle-class household coffee tables, Eames furniture had not been extolled to vintage gems, and George Nelson's ready-made houses were affordable for the general public and not the privilege of the happy few. At the same time his fashion is underwritten with a fine, and sometimes bitter, sense of irony which renders moot all these clichés and twists and dashes about existing stereotypes of casual Friday aesthetics and the uninspired preppy style that fashion across the Pond – perhaps unreasonably – has become best known for. Ironically… and fittingly perhaps, Browne showed his S/S 2011 collection in Paris instead of New York arguing that 'Paris opens up to the world a lot more… [and] is the best city for understanding innovation and provocation'. Fair enough.