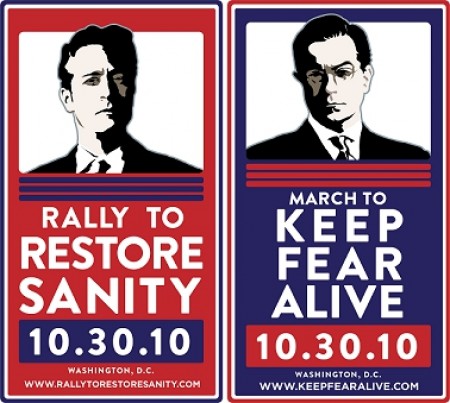 'The Rally to Restore Sanity', held on October 30th in Washington D.C. was first announced back in September by Jon Stewart on his satirical 'fake-news' programme The Daily Show. Clearly intended as a response to extreme-right pundit Glenn Beck's earlier 'Restoring Honor Rally', Stewart pitched the event as a protest against the hyperbolic and self-perpetuating nature of the media's political discourse in the U.S., unfurling a banner behind him that urged viewers to "Take it Down a Notch, for America". Immediately following the announcement, Stephen Colbert (an ex-Daily Show correspondent whose act consists of parodying the right by embodying its values ironically) announced a counter-rally on The Colbert Report: 'The March to Keep Fear Alive'. Supposedly campaigning on the precise opposite of Stewart's message, Colbert asserted, "Now is the time for all good men to freak out for freedom!"
If the purported original plan of two separate rallies had gone ahead, this would have effectively constituted two distinct approaches: Stewart's sincere (if comically-inflected) call for 'rationality', and Colbert's ironic embodiment of its opposite. While Stewart certainly uses irony himself, he is also not afraid to speak earnestly, tending to leave the truly parodic performances to his correspondents; similarly, as Russell L. Peterson points out, "'restoring sanity' is obviously a bit of comic grandiosity, but it's basically sincere". Colbert, on the other hand, is always in character: his "whole shtick is built on saying the opposite of what he really believes" (Peterson again).
Yet the two events were always, of course, planned to be merged. On October 14th, under the auspices of Colbert not having applied for a permit in time, it was announced that the rally had transformed into 'The Rally to Restore Sanity and/or Fear'. In doing so, Stewart and Colbert mounted a protest appropriate to our metamodern moment. In the rally's closing speech (described as "a moment, however brief, for some sincerity, if that's okay") Stewart said of the crowd that "some of you may have seen today as a clarion call for action. Or some of the hipper, more ironic cats", he brought his fingers up for air-quotes, "as 'a clarion call for action'". Clearly, Stewart recognised that a tension between irony and sincerity lay at the heart of this event.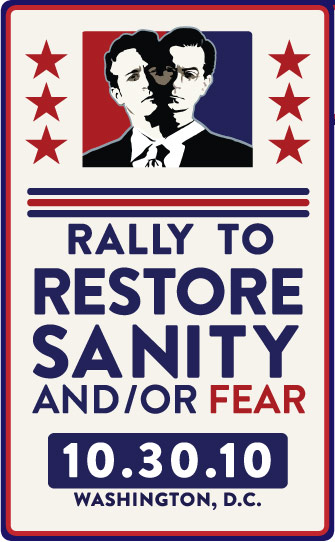 The very act of satirists organising a protest at all was bound to create such tensions. As Richard Zoglin puts it, although often emanating from a place of righteous anger, usually "satire is essentially a negative enterprise; its aim is to tear down, not build up"; by contrast, "Stewart and Stephen Colbert […] are venturing into new territory, building a bridge that has never existed before". Although Andrew Sullivan might have described the event as "the first actual ironic rally I've attended", it must be recognised that the fact that it advertised itself as a rally at all – and was attended as such – meant that it could never have been wholly ironic, if by ironic we mean detached, uncommitted, insincere. 'The Rally to Restore Sanity and/or Fear' relied upon the existence of a huge audience who are not only steeped in the pleasures of ironic discourse, but also politically engaged – desiring of, and believing in the possibility for, change.
Sullivan has described this audience as the "post-everything American middle class", pointing to the countless number of ironic placards wielded by attendees as evidence – signs reading "Hyperbole is the Antichrist", or "I'm Pretty Sure that God Hates Us All Equally". Yet if the audience for the rally was post-everything, it was also post the wholesale irony of postmodernism. For, regardless of whatever irony may have been present in these signs, they were nevertheless political statements. "Who Would Jesus Bomb" is simultaneously a play on words and an attack on the Christian right's contradictory ideology. Even in a short compilation video we find protests against Tea-Partiers, hate groups like the Westboro Baptist Church, the 'War on Drugs', the irrational fear of state-funded programs, Islamophobia, homophobia, anti-immigration lobbyists, the covert racism inherent in some of the vitriolic attacks on Obama, and so on. In short – in case we needed reminding – this crowd's signs alone demonstrated that irony and enthusiastic political engagement are not mutually exclusive.
Essentially a trumped-up variety show, the performance itself had a charmingly messy feel to it (much like a great deal of Stewart and Colbert's programmes), featuring fluffed lines, missed cues – most of them being acknowledged and mined for comic effect. However unplanned, these mistakes (or at least the impulse not to cover them up) are also a conscious performance strategy: they bespeak failed attempts, frailty, a desire to achieve something that is not quite attainable but which will be striven for nonetheless. The climax of the show even mined that most outrageously shambolic of formats, the British pantomime, when John Oliver appeared as Peter Pan and led the crowd in a chant that apparently killed Colbert's giant 'Fear Puppet'. The show was structured throughout on contrasts and oscillations: Cat Stevens and Ozzy Osborne having a musical battle, the former playing 'Peace Train' while the latter tried to drown him out with 'Crazy Train'; Stewart and Colbert embodying left and right in alternating lines of a song called 'There's No One More American Than Me', and so on. All such tensions bespoke the broader, overarching tension between irony and sincerity – the tension embodied in so much of the metamodern, which allows for the expression of concepts that have for so long been deemed retrograde, but which nevertheless still demand to be expressed. It is a discourse that acknowledges the potential for detached self-critique without ever letting it overshadow a deeply-felt need for passionate engagement.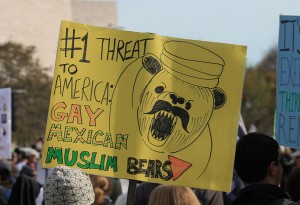 The importance of this approach – and the call for 'sanity' which lay at its heart – became clear even in the moments immediately following the rally. As the live broadcast of the performance was winding down on the channel C-Span, viewers were invited to phone one of three separate telephone numbers to give their opinion on the event: one for Republicans, one for Democrats, and one for independents. A mere matter of minutes after Stewart had finished his speech about the damage that ludicrous hyperbole does to the political process, we heard a caller who defined himself as 'independent' (and who claimed to have agreed with the rally's message) comparing Tea Partiers to Brownshirts and Blackshirts. The irony, seemingly entirely unintentional, was almost too painful for words.
This kind of discourse may reflect passionate, sincere outrage. But its form is also entirely unproductive – reducing, in its excessively-familiar manner, a complex political situation down to a battle of us vs. evil. It is also precisely what the discriminating balance of irony and sincerity endorsed by the rally has the potential to hold in check. We may well have a sincere desire to criticise, as this caller clearly did. However, armed with an appropriate recognition of the need for irony, it would be impossible, firstly, to make the colossal blunder of praising something via an argument that is directly opposed to the object of one's praise. More importantly though, to protest in a metamodern fashion is to find a productive middle-ground between the blind over-sincerity of this caller and an irony that ultimately stymies political commitment altogether. Like the contemporary artists written about by Jerry Saltz back in May, who "grasp that they can be ironic and sincere at the same time," this form of engagement  is "at once knowingly self-conscious" as well as "unafraid, and unashamed."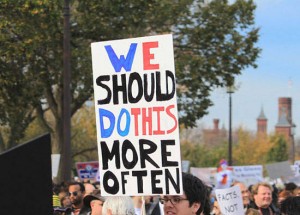 Stewart and Colbert may wrap up their message with a degree of irony, but they are still there, holding a rally, and delivering that message. The audience may use self-reflexivity in their placards, but they are still there, attending a rally, and brandishing placards. PZ Myers has complained that the rally was "nothing but a cry about the national tone", but that tone is precisely what makes this event important. The issue that was being protested on this day was, we can presume, not the last that will be confronted in this metamodern fashion. The significance of the rally may finally lie less in what it was protesting than in the fact that it provided a new tone with which to protest. As one of the placards read: "We Should Do This More Often".